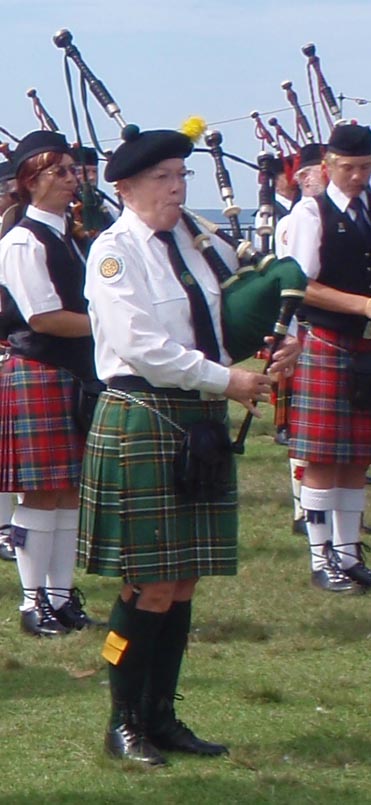 Fran Emerson
was born in New Zealand, raised in Oregon USA, migrated to New Zealand when 20 and then to Australia. She has been involved in Scottish highland dancing for 53 years, was the Oregon State Highland Dance Champion and started teaching highland dancing in her early teens.

Fran ran a large Highland Dance school (125 students) in the Southern Highlands for many years and held regular dance competitions during that time. Many of the dancers from that school won places at competition, some won championships, many just learned for fun and many went on to play in the Southern Highlands Pipe Band including three of her four children.

Its been 43 years since Fran started learning the bagpipes in her teens. She went on to play with the Clan McClay Pipe Band (Oregon), Manawatu Scottish Pipe Band (NZ), Southern Highlands Pipe Band (NSW), Canberra City Pipes and Drums (Canberra).

In 2002 Fran led the founding members of the Canberra Celtic Pipe Band to form a new band as she and others felt there was a need for a band in Canberra that focused on competition, dancing and social/community events. At the time there were two social/community bands and one competitive band and our aim was for a balance of the two types of band. The reasoning was that some pipers and drummers cannot give 100% to a truly competitive band, want a relaxed social community based approach but want to be challenged to be as good as they can be. The solution was to create a band which competed two or three times a year maximum. The dance school was always part of the plan in forming the band as it acts as entertainment support for the band and contributes learners from interested dancers. The Canberra Celtic Pipe Band is consequently an extremely young pipe band in comparison to others and also has more female pipers than most.

At the time of forming the band many people in Canberra told us it couldnt be done as no one had started a band without sponsorship in NSW or for that matter Australia for so many years. Despite that Fran, with a couple of others, contributed to starting the band with drums and chanters with most players purchasing their own kilt (one of the biggest expenses). This gave the band the start it needed.

n teaching piping and dance Fran has this philosophy "no one I teach is allowed to say I can't. I have told many dancers and learner pipers that you can do anything if you really want to and with practice and that can't really means "I have decided that I wont try hard at this."

The band gives Fran a balance between her 4 children, 9 grandchildren and work. She loves music and has numerous instruments at home which "I fully intend to learn to become proficient at when I grow up i.e., melodeon, concertina, harmonica, tin whistle, organ, Northumbrian pipes etc."

Somehow Fran has found time in her life to also be a court, marriage, youth and family counsellor and a service and public service manager (good training for becoming a pipe major when she grew up!).